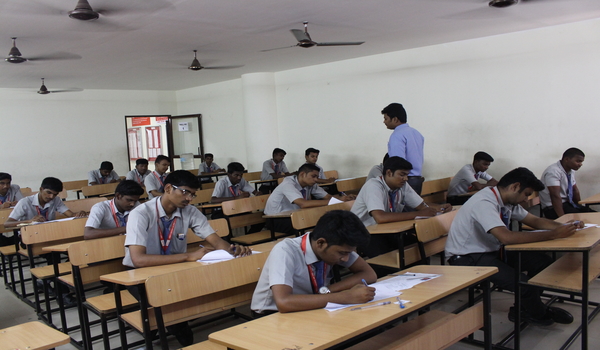 Examination Cell & Staff
The Examination Cell is functioning under the guidance of our Principal with the assistance of two experienced faculty. This cell is set up to offer information to the students pertaining to the examinations and tests. The following activities are carried out by the examination cell.
Offering information to the student pertaining to University Theory and Practical Examinations.
Conducting Three Internal Tests for each Semester.
Preparation of Progress report and sending information to the parents about the performance of students in Internal Test
Sending internal marks and percentage of attendance of each student to university
STAFF DETAILS
| | |
| --- | --- |
| In-charge | Mr. Sathis Kumar |
| Phone | 9159499977 |
| Faculty Coordinators | Mr.Sasikumar, Astt. Prof., Dept. of EHS |
| Assistant Staff | Mr. Dinesh Kumar |
| Support Staff | Mr. M. Jayagar |
Examination division mainly deals with the following
Replying to University letters regarding various matters pertaining to examinations, results of students, etc.
Student's grievances/queries regarding results declaration, errors in results etc.
Conduction of Internal Examinations and End Term theory/practical Examinations.
Verification of student marks for Training and Placement Activity and various for companies as per their request.
Distribution of Degree certificates, Mark sheets of students received from University after declaration of result. Any other related grievances /queries.