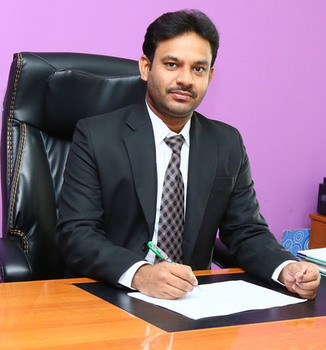 Educating the mind without educating the heart is no education at all
Mr. A. MOHAMED RIZWAN, MBA., PGDEHSM
Welcome to 2019-2020 College academic year to ASET College of fire and safety Engineering. The Aim of ASET is to educate the Global youth to take professional education on with lucrative package through campus placement by imparting comprehensive education on Environmental health & Safety.
I feel Privileged and elated to introduce that the professional safety education global scenario is undergoing revolutionary phase changes keeping in line with the challenges and opportunities presented by our fast growing industrialization. Worldwide it is reported that many accidents and incidents have been taking place in various forms in day to day life. Hence the Safety engineers/officers presences are imminent to combat and control the incidents and to protect the human lives from all calamite conditions. Safety professionals are the real life Hero's who are only preventing everything before happening. Yet the societies have a lack of understanding and misconceptions about choosing the courses to their loved ones and for them. While our nation is poised for leap in all fronts Fire & Safety Course is an ultimate education which offers you a bright and quick ocean of opportunities. To augment the opportunities to meet the demand
ASET is determined to produce truly employability skill to the students before it usher them a right placements .To armour the students' employability skill, ASET infuse them the skills like Communication skill both in English and Hindi. Apart from that Problem solving skill, Decision making skill are also imparted to sustain and shine in their Prospective career.
Without values of moral education, the students could not become leaders and role model to their leading teams. Hence Moral value is one of the core subject to the students educated. Discipline is the fundamental pillar to the safety profession, hence ASET mould them a disciplined student. Grooming of students is an essential element of ASET college, all the students are always emphasised to adhere Grooming.
ASET has full equipped Library where all safety Journals, technical books. Leaders' Biographic, environment chronicles are decked periodically. Students are updating their knowledge to cater to the current placement scenarios.
I am very happy with the progress of the college has made by imbibing in its students value based quality education in ENVIRONMENTAL HEALTH & SAFETY (EHS) management education in regular pattern under a GOVT. University regulations very first time in Chennai. Degree/Diploma with an international syllabus of ILO- Geneva. Serene and modern campus provides the right ambience for the academic in pursuit of best education to students in the college for the wholesome development. On completion of this course, the students future will be at right track The college gives top priority for academic excellence, innovation and discipline. The college has facilities which enable the students to take part in co- curricular and extracurricular activities, qualified, experienced and committed faculties and staff are the backbone of this college that educate and train the students to meet all kind of challenges.
Before my conclusions, I am quiet anxious to meet you all in person to have the Glimpse of your prospective institute to gain the confidence and your interactions with our staff would embolden your thought that you are on the right decision to take up this course as a futuristic education system.