One day national conference
Women empowerment through entrepreneurship:
Entrepreneurship plays an eminent role in creating an employment opportunity for rural communities, providing self-employment for those who have started-up a business of their own and enhancing the economic status of the rural sector as well. Now women are also interested to establish their own business as professionally both in the urban and rural areas due to overcome poverty, generate family income and increasing Standard of living.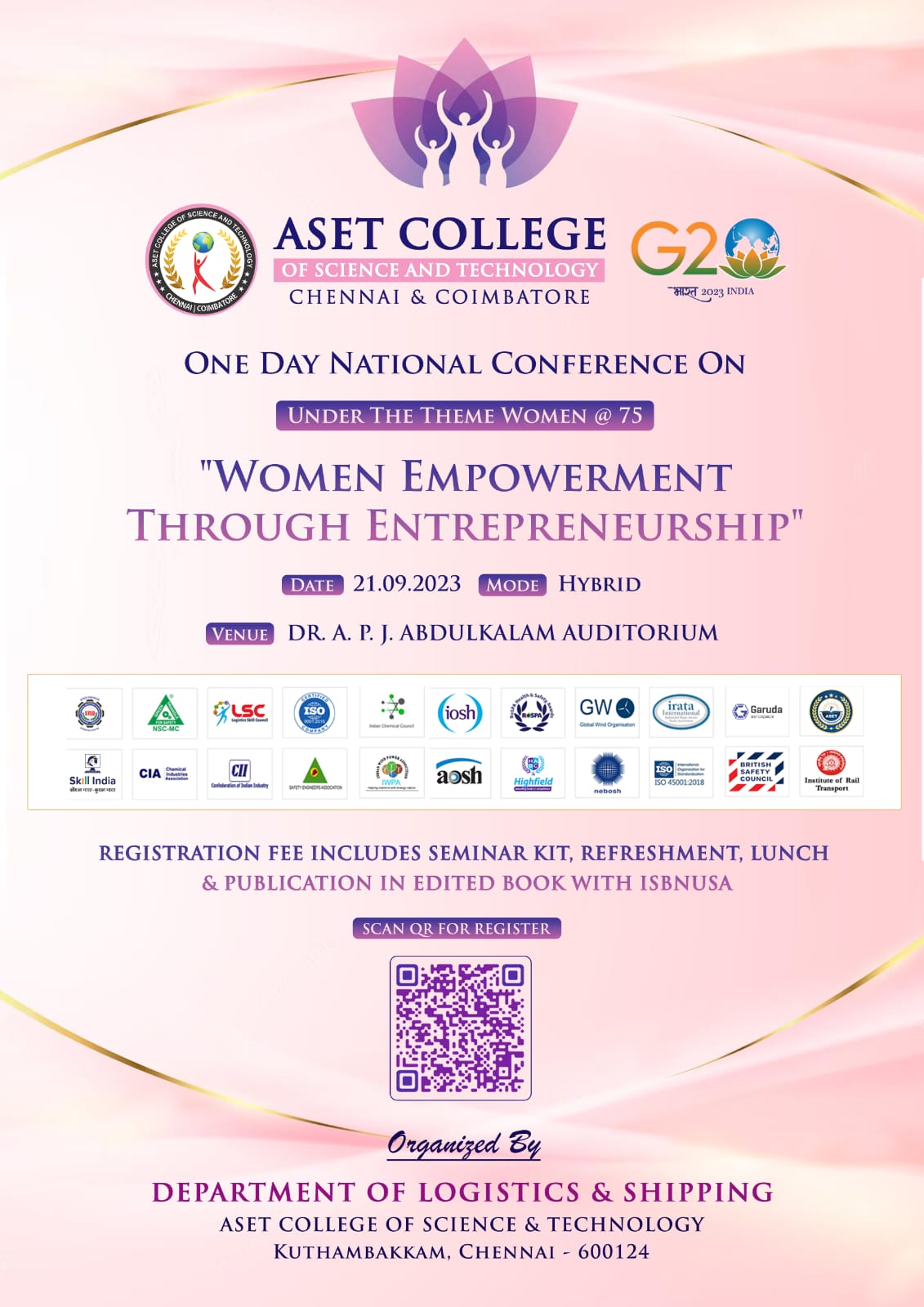 So it is necessary to empower women socially, economically and technologically to enable them to stand in society on their own with confidence. It includes both controls over resources and ideology, greater self-confidence and an inner transformation of one's consciousness that enables one to overcome external affairs. In today's competitive world, there are various ways by which women get themselves empowered. Entrepreneurship development and income generating activities are a feasible solution for empowering women who leads to economic independence, the opportunity to have control over their lives, self-reliance, self-determination, and a way to achieve for themselves. Considering this need the government of India has begun the process of empowering women through various national policies and developmental programmers are organizing women empowerment through rural entrepreneurship.
Objectives:
1. To know about the micro enterprises rural women and its areas of development.
2. To know the advantages of micro enterprise in building women empowerment.
3. To know the impact of entrepreneurship development in women empowerment.
Sub Themes:
1. Women Empowerment, entrepreneurship and capacity development.
2. Enhancing women's empowerment through capacity building program.
3. Problems of women entrepreneurs in India.
4. Women entrepreneurs in India Challenges and opportunities.
5. Women entrepreneurs in micro enterprises in India:
Issues & interventions of women entrepreneurship.
6. Women-empowerment through women entrepreneurship.
7. Rural women empowerment and entrepreneurship development.
8. Enabling rural women's economic empowerment Institutions, opportunities and participation.
9. Economic empowerment for women- financial inclusion for women.
The topics considered may include, but are not limited to the above topics.
GUIDELINES FOR PAPER PRESENTATION & PUBLICATION
Those who are interested on the theme of the Conference are invited to send their abstracts and full papers as per the following guidelines and submit within the deadline through
E-mail to One Mail ID and Google form link
All Submissions must be made in MS WORD aset national conference 2023 @ gmail.com format Font Style: Times New Roman, Font Size: 12, Line Spacing:1.5
Four to Five Keywords
Author's affiliation, Contact address, Designation, Mobile Number and Email ID should be found in First Page
The paper should neither exceed 12 pages nor less than 6 pages
References in APA style, Plagiarism is strictly denounced
Research articles will be accepted only if the level of plagiarism is below 10%
Scopous and UGC can Publication will be done at Additional cost.
IMPORTANT
DATES
Last date of Abstract Submission : 25.08.2023
Last date of Full Paper Submission : 10.09.2023
Date of Seminar : 21.09.2023
REGISTRATION FEES - PARTICIPATION AND PRESENTATION
Students : 200
Research Scholars : 500
Faculty/Corporate Persons : 750
Registration Link :
https://docs.google.com/forms/d/e/1FAIpQLSc59SM5R91F_iGP2R_hpxsxIdEIc3_1H-uYB5R6dwEfqKJBAw/viewform?usp=sf_link